Baserad på 2015 års Motocross-VM-vinnande YZ450F - och utvecklad parallellt med produktionsmodellen av 2016 års YZ450F – kommer den helt nya WR450F med Yamahas innovativa omvända topplock och bakåtlutande cylinder. Med YZ-F:s motor-layout tillsammans med det kompakta och lätthanteringa YZ-F-baserade chassit, får WR450F helt nya förutsättningar i fråga om vikt, effektförhållande, smidighet och körbarhet.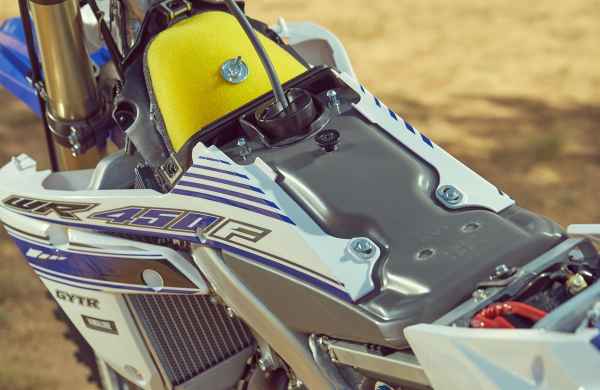 Mer fakta om 2016 års Yamaha WR450F:
ENGINE
Linear torque with deep reserves of power
Like the YZ-F models and the recently launched WR250F, the completely new WR450F engine features a reverse cylinder head with a front facing air intake and rear-exiting exhaust. By increasing intake and exhaust efficiency, this innovative layout enhances the engine's linear torque feeling, and delivers deep reserves of highly controllable and easy-to-use power.
Dubbed the 'Rightfully wrong' concept by Yamaha, the WR450F's reverse cylinder head and rearwards-slanting cylinder layout has already proved its competitiveness with the World Championship winning YZ450F motocrosser. As with the highly successful YZ-F 'brothers' and the WR250F enduro, the new WR450F's compact engine layout - together with the underseat fuel tank and snaking exhaust pipe - contributes significantly towards mass centralisation.
Like many innovative technologies, the look of the reverse cylinder head may initially seem 'wrong' to some, but with its inherent performance gains, together with its more focused mass centralisation that deliver lighter and more agile handling, this is the right way forward for riders who demand winning performance combined with enhanced rideability.
New 44mm throttle body with revised fuel injection settings
For easy engine starting and strong performance in a variety of conditions, the WR450F is equipped with an all new fuel injection system that is designed to enable the rider to exploit fully the machine's increased potential.
Based on the latest 2016 YZ450F system, the WR450F's new fuel injection system has been completely reprogrammed to meet the needs of the enduro rider. The 44mm throttle body is 2mm larger than the design fitted on the current WR450F, and a revised spray angle and improved throttle valve opening characteristics contribute towards the WR450F's good balance of high power/high speed performance together with ease of use and rideability at lower speeds.
Enduro-spec radiators with lightweight cooling fan
For effective cooling performance in all riding conditions, the WR450F is fitted with new enduro-specification radiators that feature a different core pitch angle to the YZ-F design, and the new shrouds have also been specially developed to suit the special demands of enduros and long distance rallies.
To ensure good cooling performance at low speeds, the WR450F is equipped with a radiator fan as standard, a feature that will be appreciated by any rider who has ever been stuck in a bog or been waiting in a long line of riders at a particularly tricky obstacle.
Newly designed electric starter
Starting the WR450F on a cold day - or restarting a hot engine - is made easy with the newly designed electric starter. A new auto-decompressor system cuts in when the electric start is activated for easy starting, and the air supply to the engine can be increased by 40% by for reliable cold starting. If for any reason the electric starter cannot be used, the WR450F is equipped with a kick-starter.
Wide-ratio 5-speed transmission and light enduro clutch
Equipped with a new wide ratio 5-speed transmission, the WR450F is ready to master any terrain - from slow speed woods riding through to aggressive special tests - as well as being able to achieve a good top speed on open enduro and rally terrain. Compared to the previous WR450F, the new model runs with higher 2nd, 3rd and 4th gears, while 1st and 5th remain the same.
To complement its wide-ratio transmission this next generation enduro bike features an all-new enduro clutch that's designed to handle the long and hard days experienced in a typical event. For a light feel together with good durability, the new clutch uses new materials for the friction plates and clutch disc, as well as a newly added push lever.
Optional Yamaha Power Tuner
The Yamaha Power Tuner is a compact and easy to use electronic device that enables WR450F riders to adjust the engine's power characteristics at the trackside to suit prevailing conditions. Riders have a choice of nine easy to program adjustments for the fuel and ignition maps, and there is also a monitor function that allows the user to adjust idle speed and see total engine running time.
Powered by two AA batteries, this palm-sized device requires no downloading prior to use, and is designed to plug straight in to the WR450F without the need of a PC.
CHASSIS
Compact size with centralised mass
The configuration of the new rearwards slanting engine has enabled Yamaha's designers to construct a compact new chassis that capitalises on the handling performance gains offered by the engine's more centralised mass.
Developed from the design used on the latest YZ450F, the aluminium bilateral beam frame runs with sophisticated front and rear suspension systems that deliver light and agile handling performance. The highly versatile and easy to ride character of the new chassis complements the strong and controllable linear torque feeling of the new engine, enabling the WR450F rider to exploit the bike's full potential.
In order to give the enduro rider improved levels of feedback and a more connected feel with the terrain, the upper and front engine brackets are manufactured from 6mm thick steel plate, 2mm less than used on the YZ450F motocross model.
KYB® Air-Oil-Separate (AOS) front forks with dedicated enduro settings
In the motocross world, the Yamaha YZ450F's Air-Oil-Separate (AOS) front forks are widely regarded as being amongst the very best designs available today. By keeping the air and oil in separate chambers, these high-tech forks help to prevent cavitation for more stable damping performance and predictable handling characteristics.
The 2016 WR450F uses the same forks as its motocross counterpart, but to ensure smoother low speed operation - combined with the ability to absorb harsh bumps - the WR-F model runs with dedicated enduro settings. Similarly, the YZ450F-based rear shock runs with revised settings that have been designed to handle the wide variety of low and high speed riding associated with enduro racing.
These WR-F specific front and rear suspension settings not only give a high level of stability over different types of terrain, but they also help to reinforce the rider's confidence in challenging off road situations. The combination of Yamaha's class leading AOS forks together with these special new enduro and rally settings also helps to minimise rider fatigue on long stages, enabling the rider to achieve their true potential.
Large diameter 270mm front disc brake
Like the latest 2016 YZ-F models, the all-new WR450F is equipped with a 270mm diameter front disc brake that offers excellent stopping performance together with accurate feel.
18-inch rear wheel and enduro tyres
Featuring black rims, the WR450F's 18-inch rear wheel and 21-inch front wheel are equipped with Metzeler 6 Days Extreme tyres, and the enduro equipment also includes a lightweight engine guard, frame-mounted side stand, sealed chain and 22mm rear axle.
Slim bodywork and durable in-mould graphics
The WR450F's body features a long, flat seat and a slim front section for easy body weight shifting, enabling the rider to maintain high levels of control when braking, accelerating and cornering. The 4-position adjustable handlebars enable the rider to select the right set up to suit their style and physical size, and the recessed fuel cap allows the seat to be extended further forwards, allowing even greater freedom of movement.
The new WR450F's aggressive looks and compact silhouette are inherited from our MXGP World Championship winning factory YZ450F, and the in-mould graphics are built to resist abrasion and look good after many hours of off road riding.
Lighting and instruments
The WR450F is equipped with a full lighting kit, and to handle the extra demand on the electrical system, a high output ACM is fitted. The lightweight digital instruments include a multi-function display with an enduro computer that keeps the rider informed about their progress and distance covered - while a fuel level warning lets the rider know when it's time to refuel. There's also a main switch-free starting system for speed and convenience.
WR450F Technical Highlights
YZ450F-based 450cc liquid-cooled DOHC, fuel-injected 4-valve engine
Revolutionary reverse cylinder head with front facing intake
Engine behaviour is fully adjustable with optional Yamaha Power Tuner
Wide ratio 5-speed transmission with light enduro clutch
Efficient cooling by enduro radiator with cooling fan
Top mounted, quickly removable air filter
YZ-F based aluminium bilateral-beam frame with optimised rigidity balance
Latest KYB® air-oil separation (AOS) type front forks
Link-type Monocross suspension
Main switch-free electric starter
Instrument panel featuring enduro computer, fuel warning and more