Ducatis designers och ingenjörer fick utgå från ett "blank papper" för att nå den till synes omöjliga uppgiften att banta 1199 Panigale på 10 kilogram mindre vikt och ge den 25 hästkrafter mer effekt än dess föregångare, 1198. Varje liten detalj, varje dimension och varje designbeslut har drivits helt av ett "noll-kompromiss-tänk" för att skapa den häftigaste prestanda-Ducatin genom tiderna.
Resultatet är en motor på 195 hästkrafter vid 10 750 varv, och 132,7 Newtonmeter vridmoment vid 9000 varv. Borr och slaglängd anges vara 112 millimeter respektive 60,8 millimeter, medan insugsventilerna sägs mäta 46,8 mm (43,5 mm hos 1198) och avgasventilerna mäter 38,2 mm (34,5 mm hos 1198).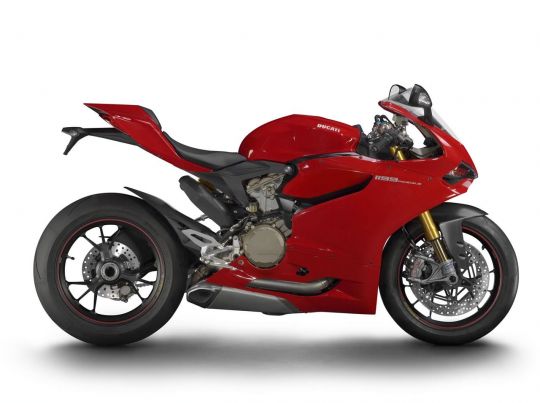 Motorcykelns torrvikt anges till 164 kilogram medan den sägs väga 188 kilogram fulltankad. Den nya monocoque-ramen av aluminium lär väga endast 4,2 kilogram.
Att Ducati 1199 Panigale är en imponerande motorcykel råder ingen tvekan om. Här finner vi bland annat en rmonocoque-ram, LED-huvudstrålkastare, elektroniskt justerbar fjädring (Öhlins TTX med elektronisk styrning, hos S-modellen), quick shift, elektroniskt styrsystem för motorbroms (EBC), GPS-assisterad datainsamlingssystem (DDA-paketet är extrautrustning för Panigale).
Ducati 1199 Panigale kommer också standard med antispinn (traction control), medan ABS-bromsar är valfritt tillbehör.
Nytt är också att S-modellen får DES, Ducati electronic suspension, alltså en elektronisk Öhlins TTX-fjädring. Självklart finns traction control men också senaste generationens race-ABS.
Borr och slaglängd är 112mm/60,8mm, insugsventilerna är på 46,8 mm (var 43,5 på 1198) och avgasventilerna mäter 38,2 mm (var 34,5 på 1198). Trots effektökningen ska intervallen för motorns stora service förlängts till 2400 mil.
Mer teknisk info om motorn nedan:
Ducati's latest engine, the Superquadro, goes beyond the barriers of engineering to enable the introduction of a futuristic Superbike today. Its no-compromise approach to design, combined with Ducati's Italian innovation has now set the most extreme benchmark ever and stands as the latest milestone in Ducati's long and iconic history of Superbike engines.
Ducati engineers were given a near impossible design brief to create the new generation Superbike engine for the Ducati 1199 Panigale. Increase power, torque and user-friendliness and reduce overall vehicle weight and scheduled maintenance costs seemed impossible tasks, but given a "blank canvas" to create the new power-plant and encouraged to think outside-of-the-box to achieve the unachievable, engineers have finally ticked all the boxes.
The innovative Superquadro engine, so called because of its massively over-square bore and stroke ratio, has increased power to an absolute production twin-cylinder milestone of 195hp and torque to 98.1 lb-ft (13.5kgm) with user-friendly Riding Modes that deliver that power appropriate to the rider's style and environment. Its construction has enabled a radical reduction in overall vehicle weight and, further identifying Ducati's constant pursuit of performance perfection, major services have been extended to 24,000km (15,000 miles).
Only Fabio Taglioni's masterpiece 90° L-twin configuration and Desmodromic valve control have been retained from previous engines. Everything else is new.
Engine architecture
With the engine designed to be a fully stressed member of the chassis, its architecture has been completely re-calculated to provide the best possible vehicle construction for layout, weight distribution and strength. The cylinders, which remain at 90° to each other, have been rotated backwards around the crankcases by a further 6°, until the front cylinder is 21° from horizontal. This has enabled the engine to be positioned 32mm further forwards for improved front / rear weight distribution in addition to perfectly positioning the cylinder head attachment points for the 1199 Panigale's monocoque frame.
The crankcases, which are vacuum die-cast using Vacural® technology to ensure optimal weight saving, consistent wall thickness and increased strength, also incorporate in their form the outer water-jacket of the "cylinder", eliminating the jointing face that used to exist at the base of the cylinders. Instead, the Superquadro has separate nikasil-coated aluminium "wet-liners" inserted into the tops of the crankcase apertures. This design enables secure fixing of the cylinder head directly to the crankcase, improved sealing and enhanced heat dissipation from the thin cylinder-liners directly into the surrounding coolant.
The primary-drive casing, clutch casing and outer cover, sump and cam covers are all cast in magnesium alloy, ensuring a lightweight engine despite its increased strength as an integral part of the chassis.
In addition to cylinder position, the crankcases now use shell main bearings for the crankshaft, previously only used by Ducati on the Desmosedici RR engine. Removing the roller bearings has enabled an increase in diameter of the crank journals for enhanced rigidity and an increase the crankcase section around the main bearing area for improved strength in line with the Superquadro's extreme power output. The shell bearings are force-fed oil from internal drillings within the main bearing pillars to keep the new crankshaft well lubricated and is quickly scavenged back into the sump with the introduction of a new Ducati feature, a highly efficient MotoGP-style vacuum pump.
The pump is driven by the main oil pump shaft and effectively maintains constant vacuum in the crankcase area below the pistons, reducing atmospheric resistance during the down-stroke of the piston and controlling the internal "breathing" of the engine.